I'm not really a total tree-hugging type of person, but I feel like I should do my part to take care of the earth and natural resources God has created and provided for us. My husband and I do our best to remember to recycle and try to be somewhat eco-conscience. Yesterday, April 22, was Earth Day and as part of the Earth Day festivities,
Lowes
is giving away
one million tree
saplings today. Since our dying landscaping is in dire need of some revitalization, my husband, pup and I all ventured over to our local Lowe's to adopt and bring home a little tree baby. We will name her Tree-sa after her mother – haha, I'm kidding. I can't guarantee that she will survive our neglectful arbor care, evidenced by the dried-up, brown magnolia tree in front of our house, but we will do our best to keep this one alive. Here are a couple photos of our needle-y little bundle of joy…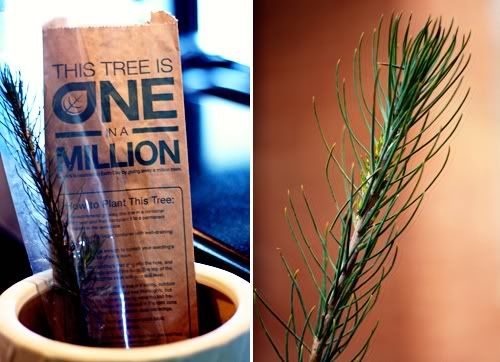 It is a Western Yellow Pine, also referred to as a Ponderosa Pine...hope it doesn't get too huge!
Actually, I kind of think that my black thumb is greening up a bit these days. If you can recall, I planted an
indoor herb garden
a while back, and I am happy to report that it is still alive and thriving. Here is a photo as proof.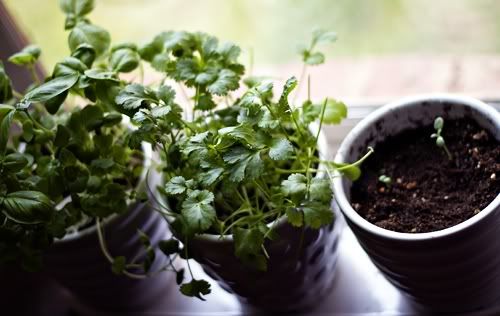 I've already plucked a few leaves from the basil and cilantro...they were quite tasty.
Okay, so the rosemary hasn't flourished as much as the others, but I was reading online how rosemary can be difficult to germinate from seeds…I'm just happy to have a couple sprouts. Everyday I've been watching my little herb garden grow in the windowsill and have enjoyed the benefits of having fresh herbs. Today I planted a couple more herbs for our master bathroom - lavender and spearmint; I just need another pot for my chamomile.
My new crop of pots for the two herbs and new baby tree sapling.
Lavender, Spearmint and Chamomile for our master bathroom...ahh, relaxing
My next challenge that I'm considering tackling will be to grow a vegetable garden in our backyard. So, here's another list for you, a list of vegetables I would like to grow (this one isn't 30 long though, because that's just crazy).
15 Fruits & Vegetables I'd Like to Grow:
1. Tomatoes
2. Cucumbers
3. Carrots
4. Green Beans
5. Lettuce
6. Sugar Snap Peas
7. Broccoli
8. Garlic
9. Onions
10. Green Onions
11. Spinach
12. Strawberries
13. Cauliflower
14. Sweet Potato
15. Watermelon
On the Better Homes and Garden website, there are several free
vegetable garden plans
, as well as a free interactive, online
Plan-A-Garden
software tool to help you design your own backyard vegetable garden. Some photos for inspiration...