I'm not sure if you've noticed, but it's been quite some time since I've posted a recipe on here. It's not that I haven't been cooking. I have, but for some reason, some strange phenomenon happens when I cook. I follow the directions step-by-step, and then oddly enough I end with something that looks nothing like and (I don't think) tastes anything like the recipe. Isn't cooking just following a set of directions? Easier said than done. Let's just say that some of the recipes I tried weren't exactly successes. However, once in a while, I'll make something that's worthy of a blog mention.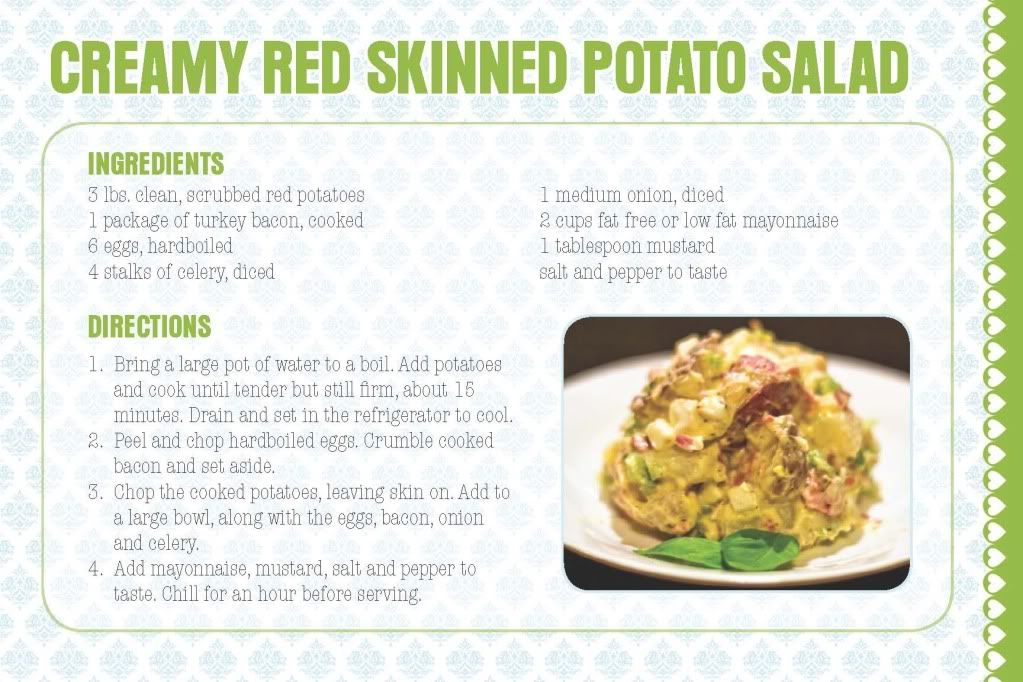 Recently, maybe since the weather's warmed up some, I've had a craving for some potato salad - a summer cookout staple. Also, it's a good way to use up some of those leftover Easter eggs you might have. The first place I turn to for recipes is the Internet, since there is no shortage of cooking and recipe websites.
Allrecipes.com
is one site that I'll sometimes visit to find quick and easy recipes. I found a pretty simple potato salad recipe and adapted it a little so that it would be a little healthier.
Creamy Red Potato Salad
Ingredients:
3 lbs. clean, scrubbed red potatoes
1 package of turkey bacon, cooked
6 eggs, hard boiled
4 stalks of celery, diced
1 medium onion, diced
2 cups fat free or low fat mayonnaise
1 tablespoon mustard
Salt and pepper to taste
Directions:
Bring a large pot of water to a boil. Add potatoes and cook until tender but still firm, about 15 minutes. Drain and set in the refrigerator to cool.
Peel and chop hard boiled eggs. Crumble cooked bacon and set aside.
Chop the cooked potatoes, leaving skin on. Add to a large bowl, along with the eggs, bacon, onion and celery.
Add mayonnaise, mustard, salt and pepper to taste. Chill for an hour before serving.
Modifications I might make for next time: